RCKRBX News and Resources
Browse RCKRBX's latest news and releases.
1. The Real Deal
November 13, 2023
Multifamily giant JPI first Texas subscriber for RCKRBX rental data.
Startup bills its software as real-time source on renter preferences.

Read More

2. BusinessWire

November 13, 2023
Demand-side Data Intelligence Platform Expands Into Texas, Welcomes JPI as Its Latest Subscriber
RCKRBX, the leading demand-side data Intelligence platform for multifamily real estate expands into Texas and welcomes JPI as its latest subscriber. Read More
3.
Tangent Podcast
November 8, 2023
How to Maximize Multifamily Performance with Renter Analytics
RCKRBX CEO, Michael Broder, and COO, James Moore, join Jeffrey Berman, Zach Aarons and Edward Cohen to discuss "How to Maximize Multifamily Performance with Renter Analytics."
Click Here
to access the full episode.

4.

Influencers in Multifamily
October 9, 2023
RCKRBX named to Globe Street's 2023 Multifamily Influencers List
Here are our picks for multifamily influencers in 2023. Read More
5.

Washington Business Journal
September 21, 2023
Michael Broder's RCKRBX is ready to 'rock' multifamily real estate
The company's online analytics platform knows what perspective renters actually want. Read More
6. Fully Occupied Podcast
July 12, 2023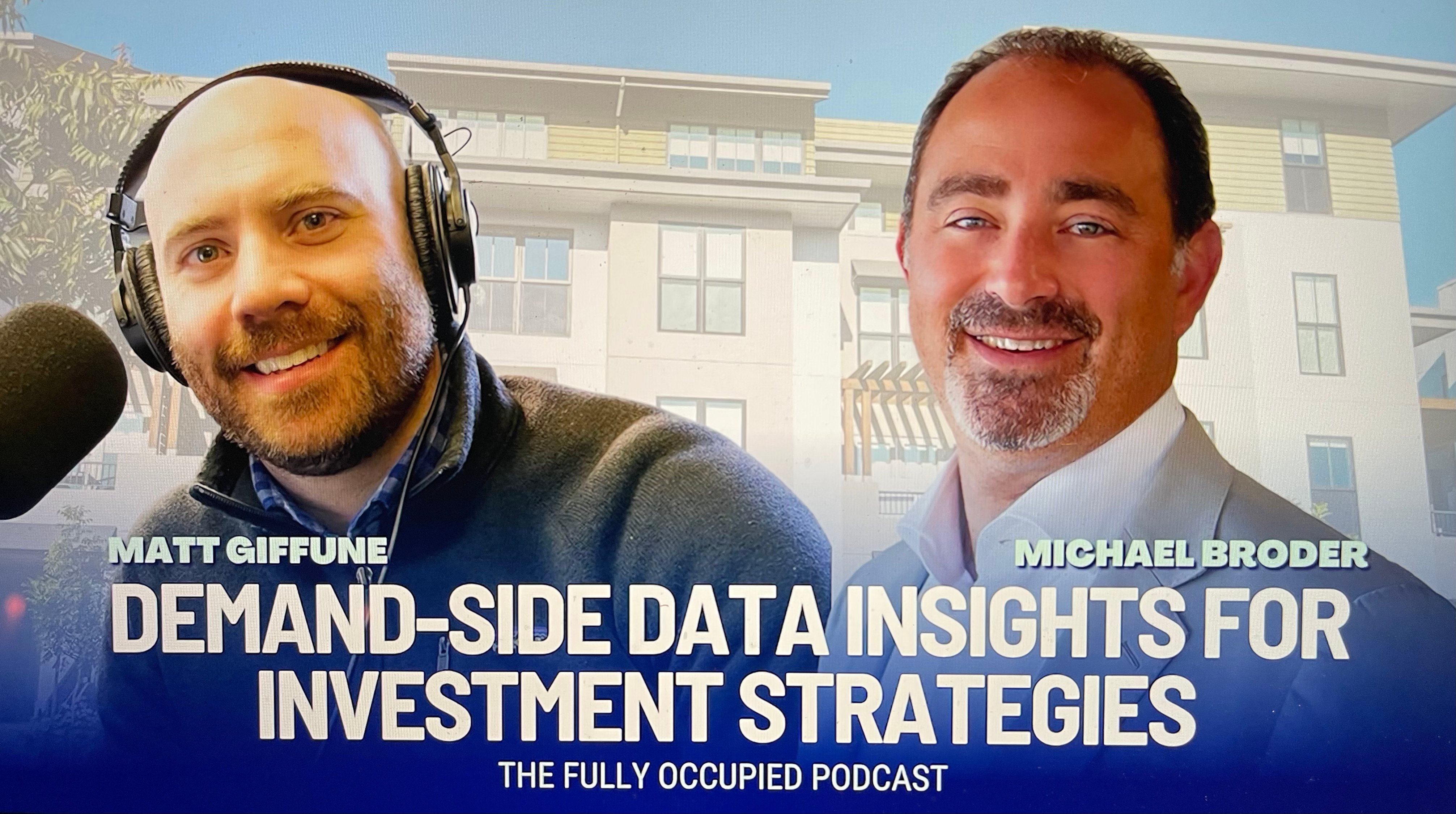 Michael Broder joins Matt Giffune on the Fully Occupied podcast to discuss the application and impact of demand-side new on multifamily investment and development. Click Here to access the full episode.
7. Commercial Observer
June 6, 2023
Proptech Outlook at Midyear 2023
Scarce funding, fewer new startups, and greater competitive demands — these and other trends are shaping the real estate tech landscape. Read More
8. Connected Real Estate Magazine
June 5, 2023
Proptech has potential to transform multi-family real estate. Property technology (proptech) initially served as a way to help building owners operate their properties more efficiently. However, it's quickly become a method of attracting and retaining tenants. Read More
9. MultiFamily Executive
May 31, 2023

Finding the Silver Bullets in Multifamily Development Technology. Apartment development tech continues to face an uphill battle against ROI-minded investors and adoption-resistant user audiences. Read More
10. Urban Land
May 30, 2023
How Proptech Could Transform Multifamily Real Estate. For prospective renters, a building equipped with smart home automation technology from
Scottsdale, Arizona–based technology firm SmartRent may enable them to schedule a tour online, verify their identity, and then unlock the unit's Bluetooth-enabled smart lock to allow them to take a look around without needing a rental agent to be present. Read More
11. Bisnow
May 15, 2023
What Do Renters Want? Demand-Side Data Holds The Key That Developers Have Been Looking For. To make well-informed decisions, multifamily developers have traditionally relied on supply-side data, or the historic performance, population, demographics and densities of a given market. Read More
12. BusinessWire
Mar 21, 2023

RCKRBX™ Launches Revolutionary Demand-Side Data Intelligence Platform to
Better Inform Multifamily Real Estate Investment, Development and Marketing
Leveraging quantitative polling data and predictive analytics, the platform delivers actionable intelligence around the preferences, attitudes and viewpoints that drive renter decision-making and how these factors will impact asset performance and value over time. Read More
13. GlobeSt

Mar 06, 2023
New Proptech Startup RCKRBX Claims Demand-Side Multifamily Renter Data
Sources are periodic surveys of renters using techniques from political campaign research. Read More
14. The Mann Report

Feb 28, 2023
Rckrbx Launches Demand-side Data Intelligence Platform for Multifamily
The demand-side data intelligence platform includes voice-of-the-customer data from current and prospective renters across targeted markets for multifamily acquisition, development, and marketing professionals. Read More.
15. Citybiz

Feb 26, 2023

DC's RCKRBX is Building a SaaS Platform for Real Estate Data
A new local startup seeks to offer more insight into the region's buyers and renters – and what, exactly, they seek. Read More.


16. Technical.ly DC

Feb 24, 2023

DC's RCKRBX is building a SaaS platform for Real Estate Data
Co-founders Michael Broder, CEO, and James Moore, COO, sat down with Michaela Althouse of Technical.ly DC to discuss the launch of RCKRBX and how it's aiming to bring more of the end-user voice to the acquisition and development stages of projects. Read More.

PR Contact: RCKRBX@marinopr.com